Mass and weight 
Mass is the quantity of matter in a body, while weight is the Earth's pull on a body.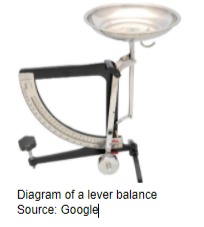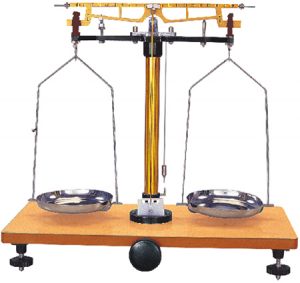 Diagram of chemical balance
Source: Google
Note: lever balance and chemical balance are used to measure the mass of an object.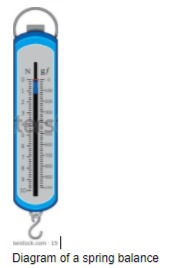 Note: spring balance is used for checking the weight measurement of an object.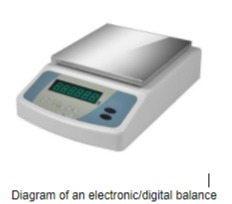 Distinction between mass and weight
Weight is seen as a force. Force is the push or pull of an object. Weight has both magnitude and direction and is therefore a vector quantity which is measured in Newtons (N). Mass on the other hand has only magnitude and is therefore a scalar quantity which can be measured in kilograms (kg).
Past questions
Which of the following statements about mass and weight are

correct

? (Waec 2015)
Weight is the force of gravity on a body 

The mass of a body is the quantity of matter in the body 

The weight of a body is greatest at the equator 

The mass of a body is greatest at the poles
A. I and II only
B. I and III only
C. II and IV only
D. III and IV only
      Answer: A
An object of volume 400cm

-3

and

density 2.5gcm

-3

is suspended

from a spring balance with half its volume immersed in water. Determine the reading on the spring balance. ( Density of    water= 1gcm

-3

) (waec 2016)
A. 1200g
B. 1000g
C. 800g
D.400g
                 Answer: C
       
A bar B is balanced horizontally on two knife edges as illustrated in the diagram above. Determine the weight of the bar. (Waec 2018)
A. 10N
B. 20N
C. 40N
D. 50N
Answer: C
A chemical balance is used for measuring (waec 2018)
A. Volume
B. Mass 
C. Thickness
D. Density
Answer: B
When a brick is taken from the Earth's surface to the moon, it's mass (jamb 2013)
A. Remains constant
B. Reduces
C. Increases 
D. Becomes zero
Answer: A
Calculate the apparent weight loss of a man weighing 70kg in an elevator moving downwards with an acceleration of 1.5ms

-2

(jamb 2013)
A. 686N
B. 595N
C. 581N
D. 105N
[g=10ms-2]
Answer: D

The diagram above shows plank RS pivoted at its centre of gravity O and is in equilibrium with the weights P and Q. If a weight 2P is added to P, the plank will be in equilibrium again by(jamb 2016)
A. Moving P nearer to O
B. Moving Q nearer to O
C. Adding a weight Q to Q
D. Moving P further away from O
Answer: B
An object of volume 1m

3

and mass 2kg is totally immersed in a liquid of density 1kgm

-3

. Calculate its apparent weight.(jamb 2016)
A. 20N
B. 10N
C. 2N
D. 1N
[g=10ms-2]
Answer: B