Please help someone else, Share!!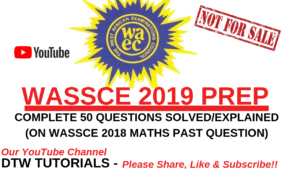 Hello Guys,
New Video on – WASSCE 2018 Maths Past Question, Complete 50 Questions Solved/Explained (Free Video Download)
Engage Study Prep!
Please Share, Like and Subscribe to our YouTube Channel – DTW TUTORIALS
Video link; https://youtu.be/PndtvTEGJ7k
To Download this Video's on your personal computer for study, copy the YouTube URL Link of the video and paste it on any good YouTube Downloader online (You can use https://y2mate.com) to download directly to your PC.
And Please don't forget to Support us by Sharing & Subscribing to Our YouTube Channel – DTW TUTORIALS
(DISCLAIMER NOTICE: Do not use these Videos for Commercial Purposes)