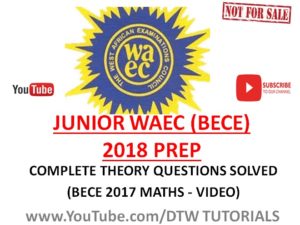 BECE 2019 Prep: Maths Complete 60 Questions Solved(Junior WAEC Obj and Theory – Free Video Download)
This video is on BECE 2017 and 2018 Mathematics theory past questions solved and explained. The past examination questions solved in this video is prepared by the Lagos State BECE board which covers the Junior WAEC syllabus that is Junior Secondary School (JSS3).
These questions are standard and can compete with all other State BECE boards to prepare you for the forth coming BECE 2019 Exams.
Engage Study Prep!
You can Also Check the New Video on – BECE 2020 Prep – Maths Theory Questions Solved (Junior WAEC 2019). Video link; https://youtu.be/A_hg_ezQNhQ
Please Share, Like and Subscribe to our YouTube Channel – DTW TUTORIALS
Video link; https://youtu.be/L1gsSTggdGk
You can download this video on your phone through the YouTube App to watch offline. To also download this video on your personal computer for study, copy the YouTube URL Link of the video and paste it on any good YouTube Downloader online (You can use https://y2mate.com) to download directly to your PC.
And Please don't forget to Support us by Sharing & Subscribing to Our YouTube Channel – DTW TUTORIALS
(DISCLAIMER NOTICE: Do not use these Video for Commercial Purposes)